Dentist Canberra – Northside Family Dental
NorthSide Family Dental is a very gentle care, professional & a family friendly dental practice with state of the art modern dental treatment equipment with strict infection control compliant with Australian regulatory standards. Our aim is looking after our patients dental health at affordable prices with maximum health fund rebates offering complete family dental care for all ages at our very convenient location in the heart of Gungahlin in Canberra.
Our Gungahlin Marketplace Dentists have extensive experience in all facets of dentistry and will spend quality clinical time with you to discuss all the possible treatment options & provide you with a dental treatment plan keeping it totally transparent to safeguard your oral health so that that you are completely aware of your dental treatment options. Our Canberra Dentists will thoroughly explain your dental treatment choices at every step of the way so that you can make well informed decisions. If you are an anxious patient, do not hesitate to ask our Dentists about Happy Gas Inhalation Sedation options for your dental treatment. Our Dentists are formally certified in treating anxious patients with Happy Gas (Nitrous Oxide) Inhalation Sedation which is also known as Relative Analgesia or Laughing Gas!
Our friendly & courteous Receptionist will make your every visit easy, memorable & enjoyable. You can expect the highest professional standards in all aspects of dental care from our Dental nurses. We endeavour to do our very best & the duty of dental care by our Canberra Dentists & Dental nurses is recognised in the WOMO 2014 Service Award for excellence & the trust that we have attained for delivering top quality service as Canberra Dentists.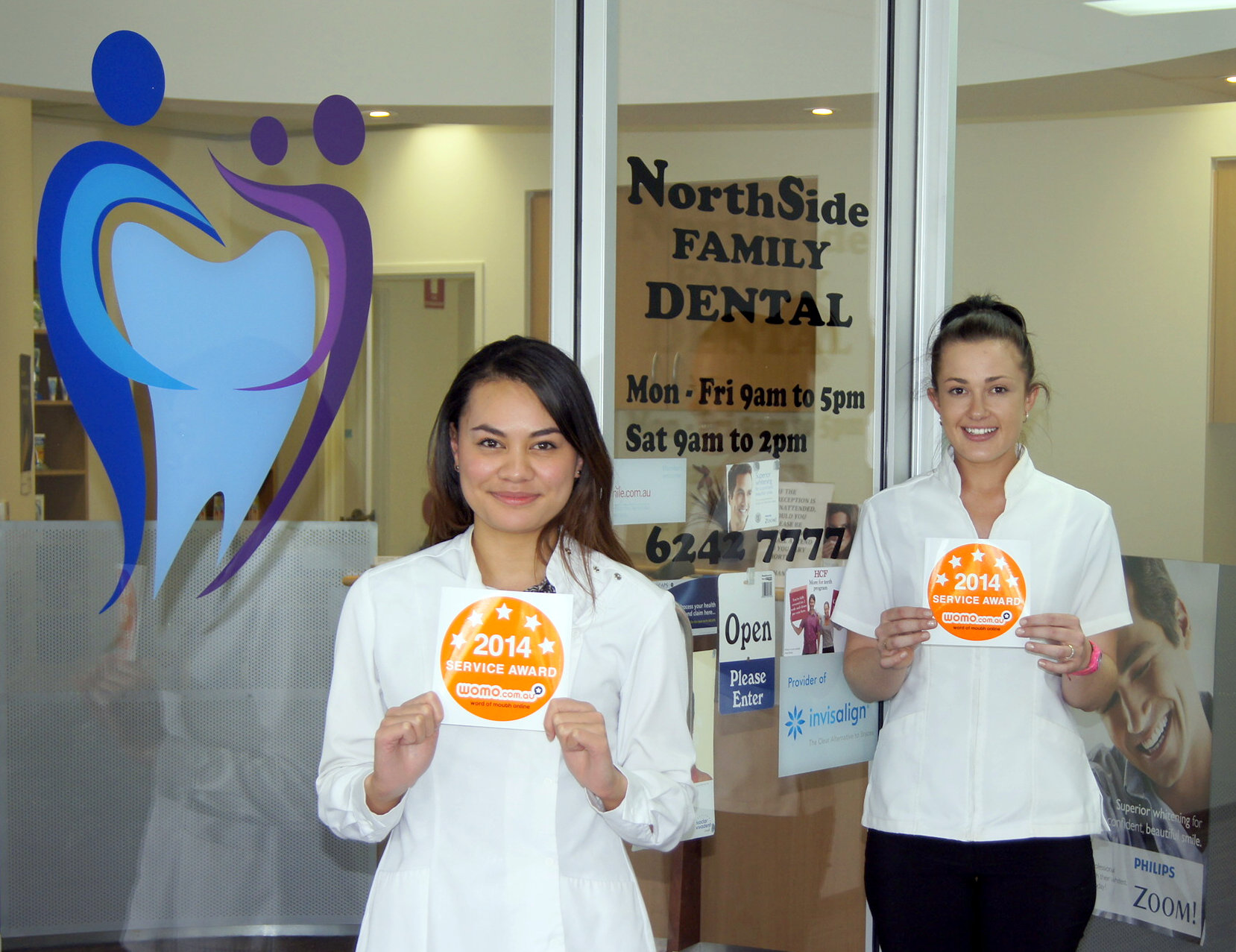 ---
Dr Shilpa Kalburgi, BDS, ADC
Dr. Shilpa Kalburgi is our Principal Dentist. She graduated in 2003 with Bachelor of Dental Surgery (BDS), obtained her ADC in 2005 & has ever since worked as a Canberra Dentist over 12 years who has attained expert mastery of clinical skills, enormous knowledge & extensive experience in all aspects of dentistry. From very young children having their very first dental visit, to teens, adults, pregnant women & the elderly, Dr Shilpa has excelled in providing quality dental treatment of any dental complexity across all ages. Dr Shilpa believes in developing a long-term caring relationship with each of her patients, she will listen very well & believes in communicating thoroughly & the quality clinical time with her is never hurried.
Dr Shilpa is totally committed to provide the highest standard of care by using the best available materials & the very latest techniques in all areas of dental treatments for Emergency, General, Preventive, Restorative & Cosmetic dentistry. Dr Shilpa is Canberra's accredited provider of the new next generation Orthodontic treatments such as Invisalign, Myobrace (for kids 5 to 10 years of age), ClearPath & Cosmetic dental treatments such as Zoom Teeth Whitening, Snap-On Smile (SOS) & Tooth Jewellery!
Dr. Shilpa's philosophy is to treat every patient with compassion, respect & professionalism. She also actively undertakes various CPD (Continuing Professional Development) programs to keep her up to date with the latest developments, treatment techniques & technology in the field of dentistry.
---
---
Dr Erin Currier, BDSc
Dr Erin Currier grew up locally in Canberra, attended Radford College and has obtained her Bachelor of Dental Science (BDSc) from Charles Sturt University in 2016. Dr Erin provides comprehensive dental treatment in a very caring and gentle chair-side manner, making her popular across all age groups. Dr Erin will look after your routine dental needs, and aptly skilled to treat any complex dental problems utilising her core dental knowledge along with modern dental treatment techniques.
Dr Erin is passionate about all aspects of dentistry and is committed to providing the highest standard of dental care to her patients. She is an excellent communicator and believes in listening carefully to each of her patient's dental health concerns and developing a tailored treatment plan to achieve her patient's oral health goals.
Dr Erin's philosophy is to treat every patient with respect and compassion while assisting them to develop and maintain excellent oral health. She understands that coming to the dentist can be a cause of anxiety for some and loves working with patients to help them overcome any apprehension they may have. She regularly undertakes Continuing Professional Development (CPD) courses to ensure she is constantly updating her knowledge, clinical skills and is in touch with the latest dental innovations.
---
---
Dr Sonal Magar, BDS, ADC
Dr Sonal Magar attained her Bachelor of Dental Surgery (BDS) in 2003 & her ADC in 2009. She has gained immense experience as Canberra Weekend Emergency Dentist in seeing patients for various types of dental emergencies with severe dental trauma & comfortable in treating patients of all ages with often complex treatment plans & various dental histories.
Dr Sonal is a straightforward and clear communicator, making sure patients understand their treatment options, and she enjoys working with anxious patients to help them overcome their dental fears. She is totally committed to provide high quality dental treatment, and collaborate with her patients to agree on a treatment plan that is most suitable for her patients.

Dr Sonal's philosophy in dentistry is to work with patients to help achieve and maintain the best possible oral health, assisting and educating patients to maintain a preventative and minimally invasive approach to dentistry. She is also committed to continually updating her knowledge by keeping up with new research in dentistry and undertaking Continuing Professional Development courses in the dental field.
---
---
Dr Vamsi Talluri, BDS
Dr Vamsidhar Talluri is our male Dentist.  Dr Vamsi as we lovingly call him grew up in Sydney, obtained his Bachelor in Dental Surgery degree at the University of Otago, New Zealand in 2010. Dr Vamsi started his professional career as a Dentist in Queensland and moved to Canberra in 2013 and has ever since called Canberra his home.
Dr Vamsi has a thorough enthusiasm for dentistry, and one of his primary goals is to be able to offer dental treatment that inflicts minimal strain on patients. Many people have deep seated fears and dental anxieties when it comes to dental treatment, and for Dr Vamsi, enabling these patients to walk away with new, much more positive dental experiences is very rewarding. Dr Vamsi over the course of his career has gained substantial experience in Wisdom tooth complex sectional & surgical tooth extractions and can aptly provide gentle tooth extractions treatment with his excellent chairside manner. You can depend on him as your Weekend Emergency Dentist Canberra catering to any dental trauma or dental emergencies. You can confidently depend on Dr Vamsi for Wisdom tooth removal canberra.
Dr Vamsi's philosophy is to treat every patient with respect, compassion and communicating very clearly while assisting them to help develop and maintain excellent oral health. Dr Vamsi keeps abreast of the latest and greatest in dentistry by actively pursuing continuing professional education activities and constantly acquiring new techniques of modern dentistry in providing the best dental care for patients.
---
---
Our Digital Dental Technology, Dental Equipment & Infection control:
Ours is a state of the art modern dental practice with computerised record keeping using Dental4Windows software practice management system to ensure your records are digitally safe, confidential & secure. Our treatment dental chair's are all modern top quality treatment systems such as the latest technologically advanced A-DEC 300 & SIRONA's SINIUS digital model which are a new class in total 100% accuracy & efficiency all coupled with the digital X-RAY system VISTASCAN MINI PLUS which safely stores the digital copies of your dental records in a fully digitised repository storage subsytem using SIDEXIS imaging software. Our full mouth X-Ray OPG system is start of the art capturing at highest available resolution which is Hyperion MyRay.
Our infection control hygiene systems use top end MELAG Premium Class autoclave coupled with all other professional sterilisation equipment & digitally controlled and monitored infection control processes that are 100% compliant with the Australian regulatory authorities ensuring that we maintain a highest standard of totally healthy infection free clinical environment throughout our dental practice ensuring our patients and staff alike are totally safe. Please be assured that the dental instruments and hand-pieces used in our dental practice are sterilised for each and every patient that is strictly monitored, tracked & recorded digitally for your total peace of mind.
---
Affordable Fees, Payment Plans, Medicare BULK BILLING (Child Dental Benefits Schedule) upto $1000 for under 18 who are eligble & HCF, NIB, Defence Health Preferred Providers & Dental Extra's cover Health Insurance on the spot claims via HICAPS:
Our fees are very modest with maximum health fund rebates which is why we are popularly known as Affordable Cheapest Dentist in Canberra, rest assured we do not compromise on the quality of our dental care & take every effort to keep our fees very reasonable to our patients. Fees are strictly payable upfront at the end of each appointment for all dental treatments which represent a qualified skilled professional providing treatment with the dental equipment & dental materials, laboratory fees, compliant infection control measures, staff, utilities & the premises. We accept CASH, EFTPOS, Visa, MasterCard and American Express (please be aware that there is a surcharge of 3% for AMEX). Any unpaid account will be referred to debt collection agencies & law enforcement if required. Using our HICAPS facility, we process on-the-spot claiming to your private health fund providing you with instant health fund rebates & thus saving you from the inconvenience of manual claim from your private health fund.
For some complex major treatments such as Invisalign which are more expensive & that span over time, our Dentists can discuss the staggered payment arrangements during the initial Consultation & provide you with the complete treatment plan with an appropriate payment plan keeping everything transparent. Please be aware that we DO NOT offer credit, we understand that the need for dental care can sometimes place unexpected pressure on a household budget and if you need credit, we are more than happy to accept PAYMENT PLANS if approved by third party payment plan provider MacCredit who can promptly provide you conditional payment plan approvals which are virtually instant once they have received all the required information from you & our dental treatment plan, upon which they will advise acceptance to schedule your dental treatment at the earliest.
MacCredit can be contacted on 1300 884 355 or visit http://www.maccredit.com.au
Can I use MEDICARE card for my dental treatment?
VERY SORRY that Dental treatments are NOT bulk billed, except for CHILD DENTAL BENEFITS SCHEDULE which is also known as CDBS upto $1000 / year. Please do let our practice know in advance if you are seeking treatment under CHILD DENTAL BENEFITS SCHEDULE & provide us your child's Medicare card details beforehand as we will have to confirm your entitlements with Medicare.
About CHILD DENTAL BENEFITS SCHEDULE (CDBS)
The Child Dental Benefits Schedule (CDBS) is a $2.7 billion measure that will provide a Commonwealth funded capped benefit entitlement for basic dental services for children. Around 3.4 million children aged 2-17 in families who meet a means test will be eligible for benefits each year. The total benefit entitlement will be capped at $1000 per child over a two year period. CDBS started in 2014.
How do I know if I am eligible for the CDBS?
The Australian Government will write to eligible children or their families in early 2014 to confirm eligibility. Children aged 2 to 17 who meet certain means testing are eligible for the CDBS. Eligibility is determined each calendar year however funds are valid for two calendar years. Families eligible for Family Tax Benefit Part A (FTB-A) or certain other government payments as listed below will be able to take advantage of the CDBS:
Youth Allowance
ABSTUDY
Disability Support Pension
Parenting Payment
Special Benefit
Carer PaymentDouble
Orphan Pension
Can I use Veteran's Affair card?
YES, we do accept Veteran's Affairs Gold & White cards for free dental treatments to all Department of Veterans Affairs eligible patients approved by the Department of Veteran's Affairs with no cost to you. If you have any DVA family or friends that may benefit from this service we would happy to help them.
Defence Health, HCF & NIB Preferred Providers:
We are the only Defence Health Preferred Dentist in Gungahlin & we also process ADF (Australian Defence Force) card through HICAPS if a GAP payment were to arise.
We are HCF Preferred Providers for HCF's More for Teeth program. If you are a member of HCF extra's cover, you will be fully covered with NO GAP payment (i.e. at no extra cost to you at all) for 2 Checkups, Scale & Clean, Flouride every Calender year which also includes any X-Rays and Mouthguards. We are your HCF Dentists Canberra.
We are also your NIB Preferred Provider Dentist costing you less out of pocket for your dental treatments. We are the only NIB Dentist Canberra in Gungahlin to offer NIB's First Choice dental benefits!
For all other health funds, if you have an eligible extras dental insurance policy, you will be up for a minor GAP (out of pocket) amount as each health fund has a different rebate amount for each treatment. Some emergency dental procedures e.g. pulp extirpation & surgical extractions may fall within a 12 month waiting period with some funds. We process on-the-spot instant electronic claiming from your private health insurance cover through the HICAPS facility so that you don't have to queue up at your health fund office for a refund. For overseas patients, please present us your pre-approval, if not, we are able to provide an Invoice & Receipt showing what dental treatment was performed so that you can claim direct from your travel insurer. You can depend on us if you are an International Student having OSHC (Overseas Student Health Cover).
We process all dental health insurance funds with Dental Extra's cover as listed below:
ACA Health Benefits Fund, ADF Family Health (Australian Defence Force card), AHM, ANZ Health Insurance, Australian Unity, Budget Direct, Bupa, Bupa International, CBHS, CBHS Corporate, CDH Benefits Fund, CUA Health, Defence Health, Doctors Health, Fit Health Insurance, Frank Health Insurance, GMF Health, GMHBA, Grand United Corporate Health, HBA, HBF, HCF, Health Care Insurance, Health Partners, Healthguard, HIF, Latrobe Health Services, Lysaght Peoplecare, Manchester Unity, MBF, MDHF, Medibank Private, Mutual Community, National Health Benefits, Navy Health, NIB, NIB International, NMRA Insurance, OHP, Peoplecare Health Insurance, Phoenix Health Fund, Police Health, Qantas Assure, QTUHF, Queensland Country Health, RACT Health Insurance, Railway & Transport Health Fund, Reserve Bank Health Society, RT Health Fund, St George Health Insurance, St.Lukes Health, Teachers Federation Health, Teachers' Union Health, The Doctors' Health Fund, Transport Health, VPS Health Scheme, Westfund, Health.com.au, SMILE.com.au, GoDental, Onemedifund & all Overseas Student Health Covers (OSHC)